Детали
| | | |
| --- | --- | --- |
| Доступные в авто каталоге языки: | | Английский, Голландский, Испанский, Итальянский, Немецкий, Русский, Турецкий, Французский, Шведский |
| Операционные системы: | | Win98, WinXP |
| Количество CD/DVD: | | 1 CD |
| Дата обновления данных: | | 6/2003 |
| Цена: | | 10 USD |
Описание
аккумуляторы, фильтры, аммортизаторы, включая продукцию Lockheed и Borg
DELPHI LOCKHEED AND BORG & BECK ELECTRONIC CATALOGUE – VERSION 4.0
Welcome to Version 2.0 of the Delphi Lockheed and Borg & Beck Electronic Catalogue. This README text file is for the primary use of members of the Delphi Service and Repair Network (Brake Safety Centres and Clutch Point Centres). There is License and Disclaimer information in section 7.0 applicable to all users. All other users should refer to the Users Guide booklet enclosed in the CD-ROM Case, as this details the main operating
instructions for the catalogue.
The Delphi Electronic Catalogue System is designed to be a Quick and Easy way to access the full range of DELPHI products using a P.C.
(Personal Computer). Not only does the catalogue allow you to search by make and model toshow all options for a particular vehicle but you can also use additional criteria (Engine Size, Registration Dates) to further refine the search. This is particularly useful where a Model has many variants.
Catalogue information can be found using Three methods:
1)Catalogue Enquiry – By entering vehicle details: Make, Model, Engine Size, Registration Date.
2)Cross Reference – By entering an Original Equipment Part Number or Competitor Part Number.
3)Buyers Guide – By entering the DELPHI Part Number.
All these options are linked together therefore allowing quick and simple part identification wherever the start point.
Once the application has been found the system illustrations are displayed to aid part identification.
Extra application and Technical Information can also be displayed:-Look for the blue and white "i" symbols, clicking on them displays
extra information.
Скриншоты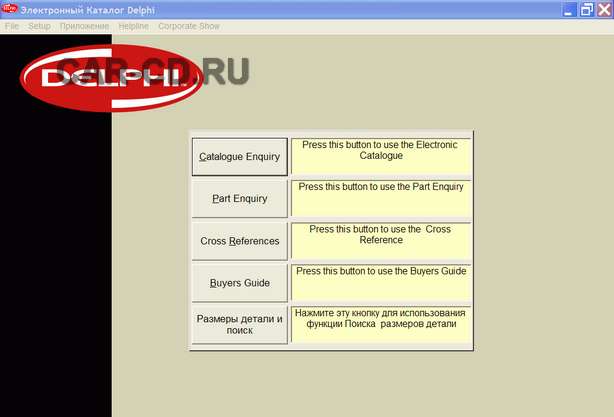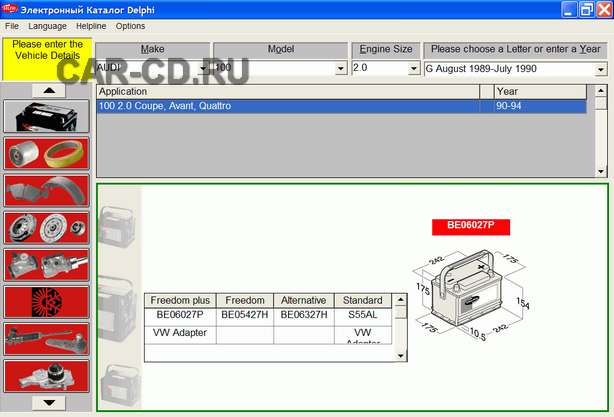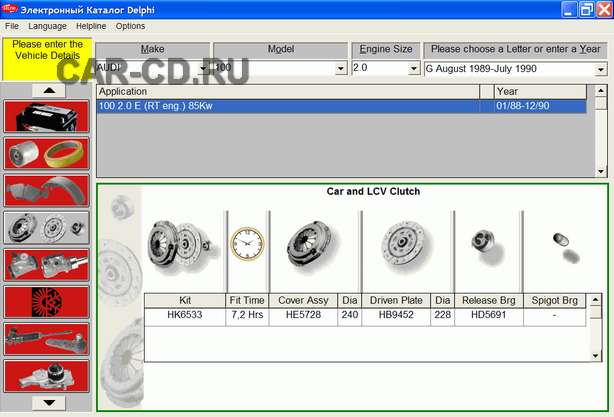 Сообщение размещено Пятница, 22 августа, 2008 в 10:12 в категории
ОЕМ легковые
. Вы можете следить за ним с помощью
RSS 2.0
фида. Комментирование и пинги запрещены.